Charts, the best client notes software for the Mac.
No monthly subscription fees.


You're a busy mental health professional.Your time is precious.
Your notes must be correct, concise, and easily referenced, all with a minimum of fuss. Charts was designed with you in mind. It's clear, intuitive, and fast.


&nbsp &nbsp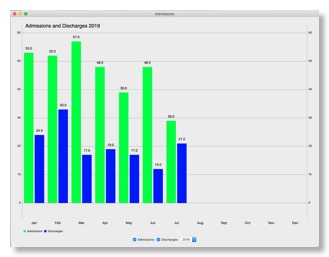 &nbsp &nbsp
&nbsp &nbsp

Take control of your client notes.
Writing notes by hand can't possibly keep up with the pace of your busy practice. Using a word processor results in scattered files that can be difficult to correlate or track. You need software tailored to the mental health professional's needs, whose design was guided by a seasoned mental health professional!

Great for the sole practitioner. No Wifi or network connection? No problem!
If you're a sole practitioner, the patient database is kept on your own computer. You never need a network connection to use the program to create, update, or reference patient notes.

Great for the small- to medium-size group practice.
Small- to medium-size group practices use a shared database accessible over the local computer network. The database can reside on a Mac Mini or other inexpensive Mac – pretty much any shared network drive is usable, whether on a Mac, Windows, or Linux.

Designed exclusively for Mac OS.
You own a Mac because of its elegant simplicity. It lets you think and do rather than fret and fiddle. Charts strives to be as simple as possible to let you do your job, yet it is powerful and fast.

Print Claims on CMS 1500 Preprinted Forms.
From the session notes, you can generate printed claims on preprinted (red) CMS 1500 forms.

The Charts Advantage

It's fast. The database is on your own computer, not somewhere in the cloud, so there's no delay in reading or writing data, no matter the size.

It's secure. HIPAA-compliant, encrypted data . In addition to the intrinsic security of the Mac, your data is less likely to be hacked since it's not in the cloud, and you control who has access.

It scales up. You can be the sole user of Charts, with full administrative privileges. Or multiple Charts users can be created with different privileges if desired. And in the first quarter of 2019, a new release of Charts will enable users on different computers, all using a shared database.

It supports multiple users on the same computer. Each person has her own user ID and password, and each can see only her own patient information. An administrator, of course, has access to all records.

It's intuitive. The program is designed with you in mind. Easily select the type of note you want to create and rapidly do your reports with a minimum of fuss.

It's elegant. Once created, reports appear not as a series of buttons, fields, and controls, but as readable and printable documents.

It's reliable! Since nothing goes over the Internet, there are no delays, and there's no worrying about connectivity issues.

It's designed for the Mac. It's all native, so it feels familiar.

It's financially reasonable. For about what you would pay in a monthly subscription for a year, you own this software package forever.

It's supported. Technical support is free for the first six months and reasonably priced thereafter. Minor updates are free. Major updates introducing new features are reasonably priced.
Charts Frequently Asked Questions

Can I download a trial version of Charts?
Certainly. A fully-functional 14-day trial version can be yours by clicking on the blue download button at the bottom of the page. The Charts installer disk image will download to your Downloads folder. If the download window doesn't open automatically for you, double-click the ChartsInstaller.dmg file in your Downloads folder. Then simply drag the Charts icon on the left into the Applications folder on the right.


How do I purchase Charts?
It's easy – click the Buy Charts Now button at the bottom of the page.


What are the minimum system requirements?
Your Mac should be running MacOS 13 (High Sierra) or later.


Does Charts work on a PC?
Charts was designed to run exclusively on the Mac.


Can more than one person use Charts on my computer?
Yes. Charts is licensed on a per-computer basis, meaning that any number of users on the same computer can use Charts.


If more than one person uses Charts on my computer, can they see each other's patient data?
If each Charts user is logged in to the Mac with their own ID and password, then no, they cannot see each other's patient data. In that case, each user will have their own Charts database in their local directory containing their own patient data.

Charts Administrator users logging in with the same Mac user ID (for example, everyone is using a Counselor Mac user ID) can see all patient data. If they are set up with Counselor role in that situation, though, they will be able to see only their own patient data.


What are Charts user roles?
The first user by default is a Charts system administrator. Most solo practitioners will never need anything other than the Administrator role, who is basically all-powerful. A Charts user can be assigned one of three different roles, each with different capabilities. Note that an Administrator can change the role of any user.
The table below shows the privileges allowed to different Charts users.

Charts Roles and Privileges

| Privilege | Administrator | Clinician | Office Staff |
| --- | --- | --- | --- |
| Create user | Y | | Y |
| Delete user | Y | | Y |
| View/edit patient data | Y | Only own patients | No session notes |
What are the password requirements for a Charts user?
The only requirement is that a password be at least 8 characters. It can be as simple or as complex as you like. Naturally, longer passwords with numbers and symbols are more difficult to break than short simple passwords, but it's entirely up to you.


What if I can't remember my Charts Administrator password?
There is no password recovery option. If your Administrator password is not one that you'll always easily remember, you should write it down and keep it in a secure place. Even better, save it in your user keychain, where it is secure.

If there are other Charts users on your Mac with Counselor or Office Staff roles, however, you can view and change their passwords for them.


Is Charts HIPAA-compliant?
Yes. The goal of computer security is to make it sufficiently difficult for intruders so that they are discouraged from trying. Charts goes about this in several ways. The Charts database resides on your Mac, not in the cloud, which makes it less likely to be hacked, as long as you take normal security precautions. Even if someone stole your Mac and was somehow able to log in to your user account, the Charts database is encrypted, so that only Charts can decrypt the patient data – the hacker would also have to know your Charts user ID and password. All of that makes it far less likely that your patient records will be compromised.




What about backup?
It's unlikely you'll accidentally delete the Charts database, as it's stored in an obscure subdirectory of your Library directory. That being said, you always should back up your computer, as your internal storage could fail. Apple's Time Machine backs up your computer and home directory every hour to an external hard disk. It works quite well and it's easy to use, but there are other backup options as well, which are beyond the scope of this discussion.


What if my computer is lost or stolen?
Assuming you use Time Machine or another product to regularly back up your Mac (see above) and you keep your backup in a safe place, you should be able to restore your data to a new Mac and continue as if nothing happened. And your Charts database is fully encrypted, so unless the finder (or thief) knows both your Mac user ID and password and your Charts user ID and password, you don't have to worry.


Do I have to use a credit card for the Charts trial?
No. You have 14 days to try it out. If you decide to purchase Charts (and we hope you will!) at any point in the trial period, you can click the purchase button in the reminder panel that pops up each time Charts is run. At that time you'll be taken to a web page to enter your purchase information and get a license string to fully license your copy.


Can a number of counselors use Charts on their own computers with a shared database? I run a counseling center, and it would be great if I could access all the counselors' patient information for administrative purposes.
At present, no. Multiple Charts users can share the same database only if they use the same Mac user ID and password. That's because the Charts database resides in a user's local directory, which other users cannot access. A true multiuser version of Charts will be available in the first quarter of 2019. That version will allow unlimited Charts users on different computers, and an Administrator will be able to access all of the patient data for all of the counselors. (Each copy of Charts, of course, will be licensed separately.) The multiuser version is currently being tested in a counseling center setting.